Reviews and Comments:
"Truly a handbook for thriving at work in the New Economy. Every worker, manager, and professional will find this manual inspiring, and immensely serviceable. Hayes tells us what we must do and how to do it."
Ronald Gross, Chair, University Seminar on Innovation, Columbia University
---
"If I were a CEO or manager, I'd buy a copy for every one of my employees, and I'd expect to see a huge increase in motivation and performance."
Shel Horowitz, author of Grassroots Marketing and several other business books
---
"For those who take it seriously, Hayes' little book will yield a far greater return on investment than the highest-flying stock."
Lewis J. Perelman, author of School's Out
---
"This new book by Charles Hayes sent a chill up my spine. It made me realize how far we've traveled in 100 years. Just as the twentieth century wiped out jobs for millions of horses, the next century will wipe out jobs for the undereducated.... Hayes challenges readers to be prepared, in control, and focused on making the most of their talents....You may read this book in a single sitting, but you will come back to it again and again, because the author is an empathetic counselor who has been there. You will sense that he wants the best for you more than you do yourself."
James R. Fisher, Jr., author of Six Silent Killers: Management's Greatest Challenge
---
"This 90-page, shirt pocket-size volume provides a good blueprint for lifelong learning, written with a positive yet realistic attitude, for use at work and for developing good citizenry. More people should take charge of their lives and talents. This little book may be the brief introduction that the school-benumbed will be willing to read and benefit from."
Tom Bowden, Managing Editor of Tech Directions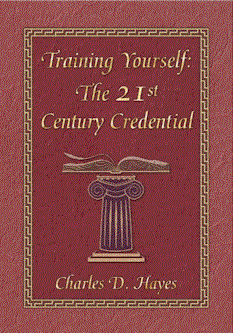 Table of Contents
Seize the Initiative
Education as Something You Take
Understand Workplace Knowledge
Learn How You Learn
Capitalize on Strengths
Show Interest in Your Work
Build Your Own Resource Bank
Look to the Future
Expect Change
Meet Your Objectives
Read More Books

Read More Books:
The following books, linked web sites and resource materials are recommended reading as a follow up to Training Yourself.
Richard Nelson Bolles, The Three Boxes of Life
Tom Brown, The Anatomy of Fire, and Fiscal Fairy Tales and www.mgeneral.com
Dale Carnegie, How to Win Friends and Influence People
Randall Collins, The Credential Society
William Draves, How to Teach Adults and www.lern.org
Peter F. Drucker, Management Challenges for the 21st Century
James R. Fisher, Jr., Six Silent Killers: Managements Greatest Challenge
and The Worker Alone
Ronald Gross, Peak Learning and The Independent Scholar's Handbook,
and www.Lifelong.com
Charles Handy, The Age of Unreason
Kevin Kelly, New Rules for the New Economy
Paul Krugman, The Age of Diminished Expectations
John Naisbitt , High Tech, High Touch: Technology and Our Search for Meaning
Lewis J. Perelman, School's Out: Hyperlearning, the New Technology,
and the End of Education
Tom Peters, The Circle of Innovation
Robert B. Reich, The Work of Nations
Jeremy Rifkin, The End of Work
Andrew Shapiro, The Control Revolution
Peter M. Senge, The Fifth Discipline
Lester C. Thurow, The Future of Capitalism
Saul Wurman, Information Anxiety